Come to the Lake Elmo Public Library for songs, stories, fun projects and more for young children and caregivers. Perfect for children 3-5 years old, but all ages welcome.
TumbleBooks Premium Service at the Lake Elmo Public Library!
TumbleBooks Premium is a collection of animated, talking picture books. With fiction, non-fiction and foreign language titles, Math Stories, Read-Alongs (chapter books with sentence highlighting and narration but no animation), Videos (from National Geographics), TumbleTV, which consists of pre-set playlists of a sequence of books, and Tumble Puzzles & Games for kids of all ages. TumbleBooks are created from existing picture books which are licensed from children's book publishers and converted to the TumbleBook format.
http://www.tumblebooklibrary.com/Default.aspx?ReturnUrl=%2f
Click on the TumbleBooks banner above to get started!
Join the 1,000 Books before Kindergarten Challenge
Sponsored in part by Stillwater Elks Lodge 179

Read 1000 Books Before Kindergarten had its beginning in 2013.
It was developed as a partnership with Stillwater Elk's Lodge 179.
In addition to having children read or hear 1000 Books Before Kindergarten, the program also emphasizes:
Ensuring that kids enter kindergarten ready to read
Instilling the love of reading in young children
Reinforcing parents' roles as their child's first and best teachers
Creating a network of families and children that are committed to literacy
As the children achieve their goal they place stickers on the tree in the children's room to show their progress.
At the 500 mark they are honored at an author's presentation and receive an autographed book.
At the 1000 mark their name is placed on a permanent plaque and they receive a cinch book bag.
Any child from birth until he or she enters kindergarten can participate in Read 1000 Books Before Kindergarten.
The program is self-paced and will depend on how often you read together.
Registration forms and log sheets are available at the circulation desk.
Everyone has a story to tell, and reading aloud and family dialog aids in early brain development. Start this great early literacy program today by picking up a 1,000 Books Before Kindergarten reading log with useful tips and track your reading on your family's schedule.
Seven Tips for Reading to Infants and Toddlers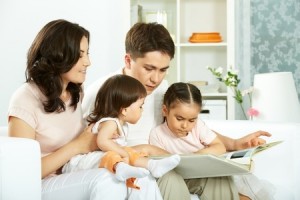 Please keep in mind that it is never too early to start reading to your children!  If your child learns early to associate reading with pleasure, she is more likely to enjoy reading on her own when she is older.
1.  Keep it Fun and Enjoyable – children like to do what is fun and enjoyable.  Make reading fun and enjoyable.  Stories should rarely be read in a monotone voice.  Bring out the inner actor in yourself.  Change your voice, make sounds, and laugh.  Most of all make it fun and enjoyable.
2.  Hold your Child While you Read – while you are still able to (provided that she hasn't grown too big); hold your child while you read.  Does she have a favorite blanket or toy?  If so, incorporate using the favorite blanket or toy in your reading.  For example, try using the blanket to create a fort.  May be you can read to the favorite toy.
3.  Interact with your Child – give your child the opportunity to read along.  Ask a lot of questions.  Although most books can probably be read in less than five (5) minutes; lengthen the reading process.
4.  Read Books about What Interests your Child – Is your child excited about Dora the Explorer?  What about Peppa the Pig?  What about Curious George?  Try to find books about things that interest your child. When your child gets older, take her to the library and she can choose her own books.
5.  Incorporate Reading into a Daily Routine – Does your child like to be read to in the morning, after lunch, after dinner, or at bedtime? Make reading something that your child looks forward to. At the same time, do not make reading a rote and mundane event. If your child wants to skip her daily reading, that's okay, too.
6.  Repetition – Does your child like to be read the same story over and over? That's okay. Read the same stories again and again. Your child will start enjoying the repetition and become familiar with the way stories are organized.
7.  Keep Track of your Child's Success – Keep track of your child's success. Use a composition notebook, use the 1,000 Books Before Kindergarten iPhone App; use any method that you want. Give your child praise after she listens to a certain amount of books. Soon, she'll be asking you to "write down" the books after she hears them.